Rinse away the daily grime with the It Works Cleanser Gel using beautifying botanicals! Gently sweeps away all skin dulling elements, including oil, dirt, pollutants, and even the toughest of makeup, without stripping skin of its natural moisture. Ideal for shaving. This silky, clean-rinsing lather is sure to become a favorite in your daily beauty routine. Leaves skin both squeaky clean and silky smooth.
Gently removes even the toughest of makeup (including waterproof mascara!)
Removes environmental pollutants, oil, dirt, and makeup without drying
Botanical extracts such as Green Tea, Marigold, and Chamomile provide antioxidant and anti-irritant properties
Doubles as a shaving lather
Formulated for all skin types
Pleasant, fresh scent
Retail Price:  $49.00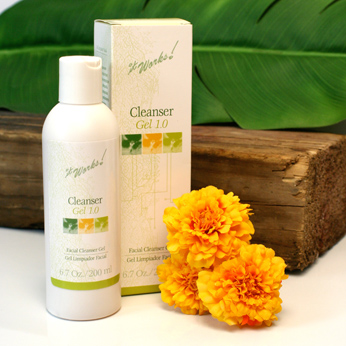 Tip: Because it rinses clean with no soapy residue, Cleanser Gel is ideal for removing impurities from the skin before using one of our best-selling body contouring Applicators.Directions: Wet hands and face with warm water. Apply a small amount of Cleanser Gel on hands. Work into a rich, foamy lather and massage lather onto face and neck with a gentle circular motion. Rinse with warm water and pat dry.

For best results, follow with the It Works! Hydrating Toner and one of our rejuvenating moisturizers: PreventAge and RepairAge.

DISCLAIMER:  These statements have not been evaluated by the Food and Drug Administration. This product are not intended to diagnose, treat, cure or prevent any disease. This product is not recommended for pregnant or nursing women or children. If you have a medical condition, health concern, or are taking prescription medication, consult with your health care professional before using this product.