Luxurious hydration meets contouring results with the It Works Defining Gel which is an intensive skin care gel that deeply hydrates while firming areas such as the abdomen, back, legs, and upper arms. When used regularly, Defining Gel minimizes the appearance of cellulite and varicose veins. It's the perfect companion to our Ultimate Body Applicator.
Minimizes cellulite appearance
Diminishes appearance of varicose veins
Improves skin texture & tightness
Softens and hydrates
Made with natural ingredients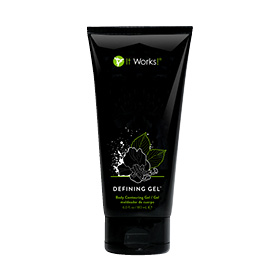 Retail Price:  $75.00 
Loyal Customer Price:  $45.00
Directions:  Use the It Works Defining Gel twice a day to hydrate, soften, tone, and firm all over. Apply to targeted areas with circular massage until completely absorbed. Extra massaging will assist in maximizing results.

DISCLAIMER:  These statements have not been evaluated by the Food and Drug Administration. This product are not intended to diagnose, treat, cure or prevent any disease. This product is not recommended for pregnant or nursing women or children. If you have a medical condition, health concern, or are taking prescription medication, consult with your health care professional before using this product.