Mist your skin with It Works Hydrating Toner and Freshener for ultra-light hydration and pore-minimizing power.  It Works Hydrating Toner & Freshener is a soothing, alcohol-free formula that hydrates, tones, softens, and refreshes skin without stripping it of essential moisture. Aloe, Chamomile, Marigold, Green Tea, Panthenol and Allantoin soothe, protect and nourish the skin.
Restores skin to its natural pH
Tightens pores for a healthy-looking glow and more even skin tone
Specially formulated to be ideal for all skin types
Doubles as an excellent post-shaving treatment to soothe skin and banish bumps
Also works great on sunburn, bug bites, and other minor skin irritations
Retail Price:  $50.00 
Loyal Customer Price:  $30.00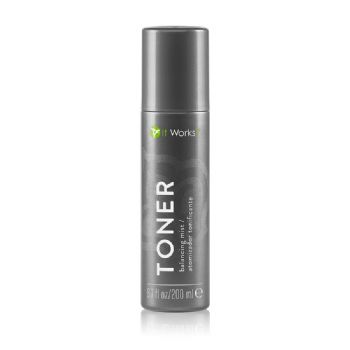 Directions: Mist over face and throat to tone the skin after cleansing with Cleanser Gel. Hydrating Toner & Freshener may, alternatively, be sprayed onto cotton pads and applied to the skin with gentle upward and outward strokes. Use throughout the day as needed to refresh, hydrate, and relax the skin.  For best results, use after It Works! Cleanser Gel and follow with one of the It Works! rejuvenating moisturizers or treatments: RepairAge, PreventAge, Lifting Lip & Eye Cream, or Facial Applicator.

DISCLAIMER:  These statements have not been evaluated by the Food and Drug Administration. This product are not intended to diagnose, treat, cure or prevent any disease. This product is not recommended for pregnant or nursing women or children. If you have a medical condition, health concern, or are taking prescription medication, consult with your health care professional before using this product.